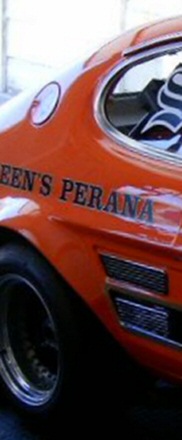 Pictures, Race Data Wanted
Although the technical details of A2 are reasonably well known, we know almost no race data such as qualifying times, average race speeds and the like.
And we have so far struggled to unearth any really good period photographs.
If you can help in any way big or small please email us at info@perana.org
We will of course give full credit to all those who provide information that we use.
Team Gunston Capri Perana A2
This car was built to replace Z181 as Team Gunston's saloon car championship contender. In 1971 the South African saloon championship focus changed to the Production Car format which allowed far fewer changes from standard road going specification (effectively Group 2), which meant that the radically modified Z181 and the other Group 5 specification cars from 1970 could not compete in this series.
Although the Production Car regulations mandated that wheel flares could be no more than two inches greater on each side than the original bodywork, some innovative engineering saw the creation of special C shaped rear leaf springs that still allowed the fitting of wide rear wheels that nonetheless stayed inside the bodywork.
In 1972 the car went to Team Grosvenor where it was driven by Koos Swanepoel. After that the car went to Zimbabwe for many years. Nick Sheward brought the car back to South Africa in the early nineties and restored it back to Team Gunston livery.
Graham Rooke bought the car from Nick, but it spent less and less time on the track, seldom appearing in recent years.
Today the car is owned by Anthony Corin who races it at Killarney.
Go to the Gunston A2 gallery to see some pictures of the car as it is today