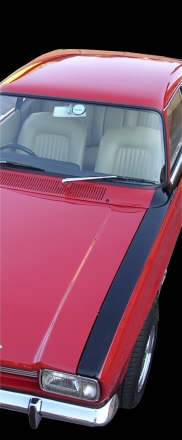 Performance
| | |
| --- | --- |
| 0-60 MPH | 8.2 sec |
| Top Speed | 118 MPH (189 km/h) |
| 1/4 mile | 15.6 sec |
Basil Green Motors advert, TechniCAR, January 1970
Capri Perana V6
The Capri Perana V6 is probably the rarest of all Peranas. We believe that fewer than 20 cars were built from late in 1969 to early 1970. The production rate was very slow, with several months between the 11th car and the 12th car. Although advertised for sale, in reality this car never really progressed beyond pre-production.
The Capri Perana V6 may have been the first V6 Ford Capri in the world, predating any that Ford produced. Subsequently Basil Green contributed to Ford's R&D for their V6 Capri which in turn led to the early demise of this Perana model.
The Capri Perana V6 was based on the V4 2 litre Capri. The cars originally had flat bonnets like the 4 cylinder Capri, but at least one contemporary advertisement shows a car with a 3 litre style power bulge bonnet.
As far as we know, only one complete car, and one other that does not have its original engine, survive today.