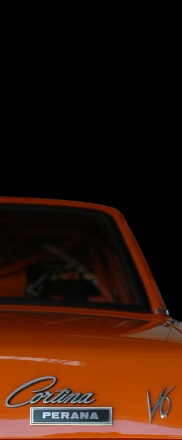 Team Gunston Cortina Perana N201
This car was the first of the legendary racing Peranas, and the first saloon car for the recently formed Team Gunston. In 1969 the car was driven by Bob Olthoff. Although he was very competitive, and won several races he was narrowly beaten in the championship.
In 1970 the car went to Team Windsor where it was raced to very good effect by Koos Swanepoel, including a memorable occasion when he beat the Holden Monaro V8s at Kyalami.
This car no longer exists. Alan Poulter has created a very accurate replica of this car based on a genuine Cortina Perana.
Go to the Gunston N201 gallery to see some pictures of Alan's replica