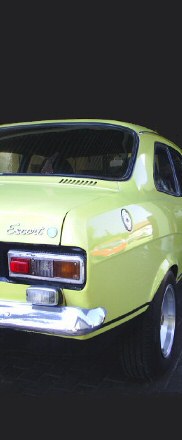 Information Wanted
Do you know of any Escort Peranas? Or have any photgraphs or articles?
If you can help in any way big or small please email us at info@perana.org
We will of course give full credit to all those who provide information that we use.
Escort Perana
The first Escort Perana was based on the Mk1 Escort. It was powered by a 2 litre inline 4 cylinder engine.
The Escort Perana came about when the Ford Motor Company in South Africa approached Basil Green to solve a problem. Ford found themselves with 100 Escort RS1600s, but the Cosworth BDA engines fitted to them were too complex for the local market. Basil Green re-engineered the cars to use the Ford Pinto 2-litre engine, creating the first Pinto powered Escorts in the world.
As the Escort RS1600 is now a rare and valuable car, at least one owner has struggled with the decision whether to keep his car as a Perana or convert it back to an RS1600.
Later, after the RS1600 cars had been converted, further Mk1 Escort Peranas were built using the rectangular headlight Escort GT as a base. See the advertisement for this version.
At present we know only of four surviving cars. Research is ongoing and we will add to this page as we discover more.
Some of our readers have sent us pictures of their cars. Go to the Escort gallery.
You can see from the following two pictures that the RS1600 badges were simply covered by a Perana apliqué.