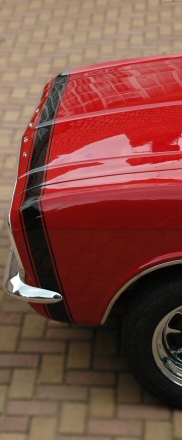 Acceleration
| MPH | Seconds |
| --- | --- |
| 0-30 | 3.4 |
| 0-40 | 4.7 |
| 0-50 | 6.5 |
| 0-60 | 8.6 |
| 0-70 | 11 |
| 0-80 | 14.7 |
| 0-90 | 18.3 |
| 0-100 | 23.5 |
Motoring Mirror, South Africa, June 1968
Cortina Perana V6
The Cortina Perana V6 was the first of a series of car models by Basil Green to be called 'Perana'. The idea for this car was conceived late in 1967 and production started in the middle of 1968.
At the time Cortina Perana V6 was the fastest and quickest accelerating saloon car ever built in South Africa, and one of the quickest 4 door production cars in the world.
The Cortina Perana was distributed by Grosvenor Motors, then South Africa's largest Ford dealership. It cost R2950 (approximately £1500 in 1968) and came with the same warranty as standard Ford cars.
The car was based on the Mk2 Ford Cortina GT, but some cars destined for the Gunston Cigarette company were based on the Cortina XL.
The drive train was up-rated using the Ford Zephyr 3 litre V6 (Essex) engine, Lotus Cortina gearbox and Salisbury differential.
Suspension modifications to cope with the increased performance included lowering, a new front cross member, stronger and stiffer Macpherson struts and Telaflow rear shock absorbers. The car was fitted with 175 x 13 radial tyres on alloy wheels. The front brakes were up-rated to 244 millimetre (9.6 inch) discs, while standard 229 millimetre (9 inch) drum brakes were retained at the rear.
The Cortina Perana was 64 kilograms (140 pounds) heavier than the standard Cortina GT
Initially red or silver were the only colour options, although later metallic green and metallic blue were available. Also a number of cars were produced in Gunston Toasted livery, which was similar to the Team Gunston racing livery. The Gunston Toasted cars were repainted in standard colours again when they were returned from Gunston Cigarettes.
All cars had a black interior. Externally the car could be identified by the distinctive transverse stripe across the nose and Perana and V6 badges on the boot. Other external features were a black grille and the alloy wheels.
The interior was standard Cortina GT except for an alloy spoked steering wheel.
There are very few known survivors today. Initially it was thought that only three or four cars remained, but a few more cars have come to light in recent months.