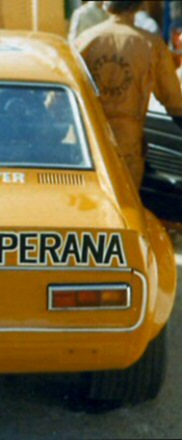 Pictures, Race Data Wanted
Although the technical details of Z181 are reasonably well known, we know almost no race data such as qualifying times, average race speeds and the like.
And we have so far struggled to unearth any really good period photographs.
If you can help in any way big or small please email us at info@perana.org
We will of course give full credit to all those who provide information that we use.
Team Gunston Capri Perana Z181
The first Team Gunston sponsored Capri Perana V8 was built to Group 5 regulations.
The car's race number was Z181. It was first raced, driven by Bob Olthoff, at the South African Grand Prix meeting on 31 January 1970.
Bob Olthoff lapped the old Kyalami circuit at 1 minute 36 seconds, only about 15 seconds slower than Formula 1 cars of the era. It was timed at over 270 km/h (170 MPH) at the end of the straight. By comparison Basil Green driving a somewhat modified Perana Capri V8 road car did 223 km/h (139 MPH) on the same straight.
Bob Olthoff went on to championship victory by winning 12 out of 13 races with one DNF.
This car's performance was overwhelming, and it finished some races 30 seconds ahead of the next car. This sheer dominance was probably very instrumental in a change in regulations that saw the main 1971 saloon series run cars in much more standard form. But of course Bob Olthoff in another Team Gunston Capri Perana V8 won the 1971 championship too.
Z181 was powered by a Gurney Weslake 5 litre (302 cubic inch) V8 engine of a similar specification to those used in the Ford GT40. It used the same 4 speed 'top loader' Mustang gearbox as the road cars. The suspension was radically modified. At the front the Macpherson struts were replaced by a fully adjustable double wishbone suspension. The rear axle was up-rated to a Ford 9 inch item that contained a Detroit Locker differential. The back axle was located by 4 link bars and an unusual central lateral locator. The wheel diameter was increased to 15 inches. Stopping was provided by Ford GT40 discs.
Unlike modern saloon race cars, Z181 retained full interior trim.
Go to the Z181 gallery.